WHY WOULD YOU WANT THE ASCEND SAFE FALL ARREST SYSTEM?
Existing safety systems used when working on silos typically involve wearing a harness that you hook onto the silo ladder. When climbing the silo, you hook onto the ladder, you step up, you unhook, you re-hook higher, then you repeat again and again until you reach the height you want to work at. It's a slow laborious process and has safety issues:
Overreaching when re-hooking
Not bothering to hook on until you reach the top
Hooking onto unsafe anchor points
With a single carabineer you are detached in between hooking and re- hooking as you climb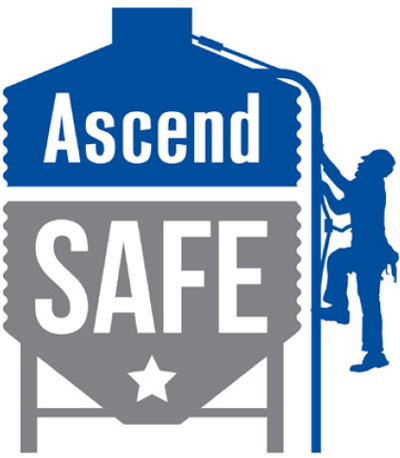 HOW DOES IT WORK?
The new Ascend Safe Fall Arrest System developed and tested by Superior Stainless Ltd aims to reduce time and frustration while at the same time making your job safer. This is done with a unique (patent pending) Fall Arrest System that allows safety-system hands-free ascent and descent of access ladders in all planes whether they be horizontal or vertical. This means that once you hook on to the tensioned wire rope that runs the length of the ladder you can remain secured to the System at all stages of the climb. No need to fumble with carabineers or clamps every time you want to change elevations.
No matter what height you are at, the System is capable of bringing you to a complete stop within the 600mm standard for fall arrest systems. The rope brake will attach at the base and simply follow you to whichever work height you need, including pulling over our specially designed pulley wheel to allow you to access the top of your silo or vessel.