FEED MILLS
CENTRAL SILO SYSTEMS are importers and stockists of SKIOLD Feed Milling equipment.
SKIOLD is a Danish company who are world leading manufacturers of feed milling, feeding and ventilation equipment. We can supply Disc Mills, Hammer Mills and roller mills for grinding cereals for feed and Meal Mixers and mineral additive hoppers.
The compact CENTRAL SILO SYSTEMS/ SKIOLD mix and mill system enable improved productivity, reduced labour, and gives greater control on finished meal quality, costs and a desired mix to suit the nutritional requirements when needed. . The highly developed disc mill allows accurate and consistent meal particle size at the touch of a handle or can be automatically adjusted through the controller.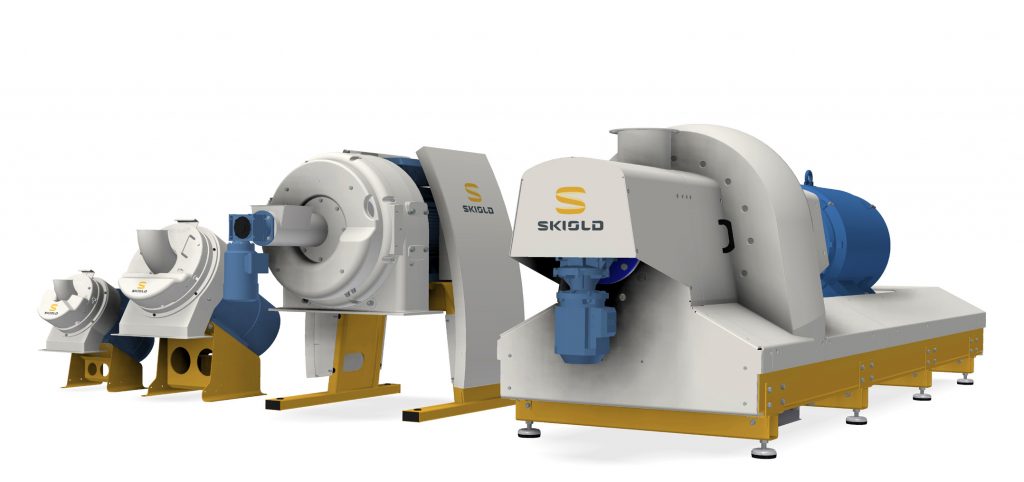 Upgrading from a worn out grain crusher/roller mill to a disc mill is usually an easy on site job.
We offer a range of milling, mineral dispensing, mixing, transporting, weighing and control systems to suit fully automated feed mill solutions.
We can design and supply complete feed mills in both tailor made and standard design with capacities from 1tph to 20tph and also bigger on request. We offer complete feed milling solutions including installation and technical support. We are dedicated to offering the complete solution for your milling, mixing or grain handling needs.
FEED MILLING
On-farm Feed mills ensure BETER PRODUCTION ECONOMY with the best fresh feed quality and nutritional value for your animals.
Advantages of owning your own feed processing system:
Use your own grain or individually selected raw materials assuring yourself of the finest quality of ingredients in the basic feed production.
Purchase Raw cereals direct from harvest at a reduced cost or grow your own.
Purchase of additives in bulk to save money.
Gives you the ability of producing your own special composition or premix and feed mixtures.
Reduces labour  through automation and feed production.
Convenience of having complete control of your own programme, including feed formula, freshness of feed, and the ability to prepare your own feed when you want it.
Lower-cost feed bill, compared to buying commercial feed.
Cash a profit by selling feed to other local farmers.
Always fresh feed – most rations loose quality and feed value if not used within 3-4 days after mixing. The animals perform better and need less feed because the ration is fresh every day.
Grain Cleaning
SKIOLD SCREEN CLEANER
The SKIOLD screen cleaner is designed for efficient cleaning separating both under- and oversized impurities from many different sorts of raw materials for animal feed e.g. wheat, barley, maize, peas, etc.
SKIOLD Screen Cleaner - Data Sheet (360 KB)
SKIOLD TWIN DRUM CLEANER
The SKIOLD twin drum cleaner is designed for efficient cleaning separating both under- and oversized impurities from many different sorts of raw materials for animal feed e.g. wheat, barley, maize, peas, etc.
SKIOLD Twin Drum Cleaner - Data Sheet (453 KB)
Control Systems
FlexMix Standard
FlexMix matches the modern production's demands for flexibility. For instance, the system is based on control of raw materials, meaning that a raw material – for example wheat – can be stored in various silos, and not necessarily always in the same one. The system will then identify which silo to take the wheat from, and will automatically keep track of consumption and stock.
Another significant importance is that the system handles up to three different weighing systems, making it possible to dose also very small quantities using a separate weighing system – e.g. minerals in liquid form.
The FlexMix controls all mixing principles; both the traditional with one mixer, and the more advanced where the mixer is provided with pre-bin and surge bin, with multiple feed mixtures under production at the same time.
FlexMix Pro
As standard, the FlexMix is supplied with a wide variety of registration and calculation functions, to give the user a complete overview of financial and nutritional issues in connection with the feed production.
The FlexMix automatically calculates 10 different production data, such as the price of the ready feed mixture, content of energy, protein, amino acids, phosphorus, etc. All production data and alarms are registered for future use. In addition to production data, the computer registers raw material stock, and displays an alarm once the minimum level has been reached.
Mill control in focus
It is very important to be able to control the mill in an optimal way; both because of the fact that it is one of the most energy consuming machines in the feed mill, but also to obtain the optimal feed structure.
With FlexMix and the SKIOLD Disc Mills in combination, it is possible to obtain optimal utilisation of the ressources. The FlexMix can be programmed to vary the grinding degree of different raw materials in different feed mixtures, to obtain just the right structure for different groups of animals. This ensures the best feed utilisation and health.
FlexMix Pro II & Production Manager
FlexMix PRO II is a process control system designed specifically to feed mills, pet feed plants and premix plants. Many years of experience have been put into this system, providing for quick start-up and intuitive operation. It is quick and easy to adjust any modifications of the plant to the system – it is not necessary to have an expensive PLC technician compile software.
As standard, FlexMix PRO II features many registrations and calculations, providing the user with a complete overview over economic and nutritional matters in the feed production.
Advantages of FlexMix PRO II:
Easy-to-learn intuitive software
Animated process flow showing the plant functions in progress
Hot keys for frequently used functions, such as history of production, recipes, orders, etc.
Alarm analysis functions helping the user to diagnose errors
Integrable with ERP
Extendable to comply with any future changes, easily and cost effectively
FlexMix PRO features very sophisticated techniques for optimising the production and for running the plant unstaffed when possible. At the same time, operation of the system is very simple and intuitive.
FlexMix PRO is fully user configurable and built up from a number of modular blocks to control the requested fields of production. This includes intake of raw materials, grinding, mixing, and out-loading. Control of pellet press/extruder is integrated in the FlexMix PRO by third party systems. The system is fully scalable and configurable to all feed mills, from small farm plants to large industrial plants. It is easy to modify the system from controlling one field of the production to comprise any extensions, if the need arises. Many modifications can even be made while the plant is operating.
Solid and reliable
FlexMix Pro software is now well tested and has now shown its worth with many installations worldwide.
FlexMix PRO II is a system designed specifically to control of feed mills. Many years of experience have been put into this system, providing for quick start-up and intuitive operation. It is quick and easy to adjust the system to any modifications of the plant. In many cases, adjustments can be made online via remote support.
FlexMix PRO features a safe user control preventing unauthorised admission.
Traceability
By entering supplier and reference for each delivery of raw materials, it is possible to see origin and time of delivery for each component in the production result. Every dosing adds supplier and reference according to the "first in, first out" principle.
User controlled development
With FlexMix PRO II, SKIOLD has changed the process control fundamentally, to meet our clients' needs and to ensure them "good value for money".
Elimination of unnecessary work caused by outdated process automation methods.
Removal of unnecessary complexity from technology and working methods.
Integration of know-how from experienced operators into the technology, in order to internalise knowledge about the production and help less experienced operators become more efficient quickly.
From raw material to finished product
FlexMix PRO can control:
INTAKE
The intake control of FlexMix PRO is designed to be easy to operate, to prevent errors, to reduce the number of entries required, and to handle comprehensive automation and stock operations.
FlexMix PRO can be configured to control several intake pits and complex routings to bins and silos.
FlexMix PRO registers all intake operations in the data base.
The system incorporates read-out and reporting of data.

SILO PLANTS
It is possible to use up to 10 silos for the same component. When the active silo runs dry, the system automatically switches to the next silo in the sequence. The sequence can be adapted according to need. It is possible to automatically transfer the delivered quantity to silo stock to reduce entries.
WEIGHING
FlexMix PRO uses advanced algorithms to calculate trail after each weighing. High or low density of the component is automatically adjusted in the trail calculation, along with fluctuations in flow of the components. All this contributes to quick and accurate weighing.
GRINDING
It is very important to be able to control the mill optimally, firstly because the mill is one of the largest energy consumers in the plant, and secondly to obtain the ideal feed structure.
In combination with a SKIOLD Disc Mill, FlexMix PRO makes it possible to make the most of the resources. FlexMix can be programmed to vary the grinding degree of different raw materials in different recipes, to obtain the right structure for each animal group. This ensures the best utilisation of the feed and health.
OUT-LOADING
FlexMix PRO II has different ways of handling out-loading. In small plants, transportation can be started by means of external push buttons mounted close to the feed truck. In larger plants, a touch screen can be used to initialise start/stop externally. Out-loading orders can be established by the plant operator or can be controlled directly from touch screen.
STOCK CONTROL
Current quantity in raw material silos is shown by means of graphical level columns on silo symbols.
The system is designed to read out raw material consumption as consumption per component, per recipe, per client, or per destination. Further filtration is possible, e.g. component consumption per recipe. It is possible to export data to Excel or PDF.
Milling
Grinding
Modern grinding principles with disc mills, hammer mills and crushers have been developed from the old method of grinding grain, seeds and straw between two stones.
The structure of the feed should be adapted to the different animal groups, and a number of different machines are nowadays available for production of basic feed and fine-ground feed.
The choice of grinding plant is determined by the type of feed that is to be produced:
For pigs and poultry, hammer mills and disc mills are commonly used.
For cattle and other ruminants, the natural choice is a crusher or a disc mill.
Disc Mills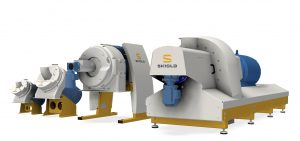 The disc mills from SKIOLD are suitable for grinding of many different types of raw materials, including pellets with a diameter of up to 12 mm. One of the advantages of the disc mill is that it is possible to vary the grinding degree during operation, and thereby optimize the feed structure for different animal groups. Other advantages are its very low noise level in operation, exceptionally long durability of wearing parts, and high capacity with low power consumption. With its compact construction, the disc mill can easily be incorporated into new as well as existing plants.
3 models are available:
SK2500 – capacity up to 2500 kg/hour
SK5000 – capacity up to 6000 kg/hour
SK10 – capacity up to 12000 kg/hour
Hammer Mills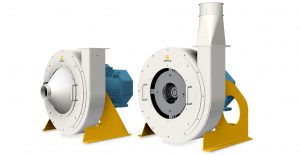 DM is the designation of type for SKIOLD's range of hammer mills. The DM mills are made in a very robust and simple construction, and have a transportation capacity of up to 80 meters. The DM3 is also available in a Prof-Line version, with longer durability for wearing parts. All wearing parts are easy to replace by original spare parts from SKIOLD. In addition to the traditional hammer mills, our range includes a gravity mill, DM6, and a WM version for grinding of moist maize (CCM).
5 models are available:
DM2 – capacity up to 500 kg/hour
DM3 – capacity from 500 to 1500 kg/hour
DM4 – capacity from 1000 to 1800 kg/hour
DM6 – capacity from 350 to 4000 kg/hour
BM5 – capacity from 1000 to 2500 kg/hour
Crushers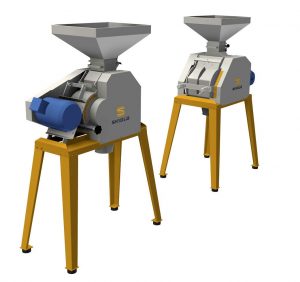 With SKIOLD's complete range of crushers, there is a crusher for any herd size – from a few horses to many hundreds of dairy cattle. The crusher program includes two standard models, each available in different versions: Drive on two or three rollers, different motor sizes, different capacities, different outlet heights. The simple and thorough construction of the SKIOLD crushers ensures a high capacity/kW and optimal security of operation. They are easy to operate and to adjust, and are efficient for crushing of all common raw materials.
2 models are available:
KB160 – 2 or 3 rollers, capacity up to 1700 kg/hour
KB300 – 3 rollers, capacity up to 3000 kg/hour
Magnets
A magnet is usually placed in connection with the raw material intake to the feed mill, or before the grinding unit, to remove metallic impurities etc. before further processing. All the magnets are permanent.
2 types are available:
Cascade magnet
Inlet magnet
Mineral Dispensing
Dosing Systems
A proportioning system is made up of flexible augers, tubular augers, trough augers, or chain conveyors, which dose material from hoppers or silos to a weighing unit. The choice of dosing unit depends on requested capacity and/or price.
There are many different systems for weighing of raw materials in the feed making process. In general, there are two main principles; weighing before or after the grinding process.
SKIOLD Flexible Augers & Hoppers
Mineral Hopper
This is normally used for premixed mixtures to be conveyed to the mixer or wetfeeding tank. At the conveying point of these mixtures, a flexible auger with a 40 mm pitch is used in order to obtain a low capacity and thus greater accuracy at the weighing point into the mixer. Where there is limited space available, the two hoppers can be placed on top of one another, but please note that there is an increased filling height on the upper hopper.
Flexible Augers
SKIOLD flexible augers are available in two sizes, 75 mm diameter and 90 mm diameter. For both models, SKIOLD offers a comprehensive range of accessories, making almost any conveying possible. The auger is made of flat spring steel with an ultimate stress, thus ensuring a stable operation. The 75 mm diameter auger is available in two different pitches. The smaller auger would be used for conveying mineral/vitamin mixtures or fish meal. It can also be used for lower capacity work.
SKIOLD Mini Proportioner
The SKIOLD Mini Proportioner is suitable for adding af micro components, such as vitamins, medicine, zinc, acids in dry form etc., in feed production plants. The proportioning accuracy is +/- 25 g (wheat meal).
SKIOLD Tanks
SKIOLD heated and insulated tank for liquid products. Ideal for storage with minimum oxidation. For both in- and outdoor installation. Suitable for fat, oil, molasses, etc. Electric heating. Foam insulated.
Mixing
Mixing
A single raw material is not sufficient to cover the feed demand of the livestock. A balanced and homogeneous diet requires mixing of different ingredients. The type and character of the raw materials to be mixed, and requirements to mixing time, are factors to consider when choosing type of mixer.
Small Batch Mixers
The new cone mixer from SKIOLD is an accurate weighing bin and efficient mixer in one. The scale is constructed in heavy-duty stainless steel, and is very reliable. The function of the cone mixer is to weigh out batches of 30 to 50 kg. The throttle on the mixer opens automatically by means of an air cylinder. A 300 x 300 mm discharge bin made in galvanised plate facilitates even and continuous feeding of material to the mill. A full level sensor ensures that the discharge bin always contains a sufficient quantity of weighed out raw materials to keep the mill fully loaded at all times.
Diagonal Mixers
The diagonal mixer from SKIOLD is suitable for accurate mixing of almost any kind of raw material in the form of meal or granulate. It is possible to add liquid raw materials, such as fat, molasses, or oil, during the mixing process. The mixing principle based on a large, slowly rotating bottom auger is gentle to the structure of the raw materials, which makes the diagonal mixer well-suited for mixing of feed for cattle, which contains crushed material.
The diagonal mixer is available in 3 versions:
Uni-Mix 500 – 500 kg
Uni-Mix 1000 – 1000 kg
Uni-Mix 1500 – 1500 kg
SKIOLD UNI-MIX INCLINED MIXER - Data Sheet (377 KB)
Horizontal Mixers
The horizontal mixer from SKIOLD is a batch mixer suitable for very accurate mixing of almost any kind of mealy or granulated raw material. The duration of the mixing process is 4-12 minutes, during which it is possible to add liquid raw materials such as fat and oil, as well as up to 50% corncob maize (CCM). SKIOLD's horizontal mixers are equipped with open double auger, and the mixing chamber is designed with the exact same cylindrical curving as the auger. This ensures a homogeneous mixing and facilitates complete emptying of the mixer.
The horizontal mixer is available in 3 versions:
1-step – mixer only
2-step – mixer + pre-bin
3-step – mixer + pre-bin + discharge bin
The number of steps is based on requirements to capacity.
Paddle Mixers
Skiold Twin Shaft Paddle Mixer PTS2000 And PTS4000.
The Paddle mixer from SKIOLD is a batch mixer suitable for very accurate mixing. The duration of the mixing process is < 1min Mixing time (dry ingredients) < 2 minutes Mixing time (liquid ingredients < 3%) Mixing capacity for the PTS2000 is 15 t/h and PTS4000 is 30 t/h designed for mixing of compound feed and feed ingredients, Quick filling and emptying, available with pre-bin and discharge bin Fully emptying through "bomb doors". It has the ability to Add up to 3 different liquids.
Transporting
Conveyors
Elevators
The SKIOLD bucket elevators, type D, are designed for vertical conveying of grain, granulates and meal products – say ordinary small-grained crops and feed pellets with a maximum diameter of 16 mm and a maximum moisture content of 25% – yielding a capacity of up to 200 t/h in a maximum height of 40 m.
Flexible Augers
Tubular Augers
U Trough Augers
Weighing
Weigh Bins
The SKIOLD weighing bin is well qualified for accurate weighing of all solid raw materials in any form, i.e. grain, meal, granulates, pellets etc.